Wednesday 13th April 2020
Hi Everyone, well we've made it to Level 2! It certainly feels like it's been forever, and we have learnt a lot of lessons over the past 7 weeks, however it's exciting to be getting ready to welcome you back into the store, rather than just have to meet you at the front door. Our main page lays out what the new conditions look like for us, and we would ask that you familiarise yourself with these before you come to visit us. We are asking for your patience while we adjust to the new world. We know that it is going to be different for quite a while yet (maybe forever!) and we need your help to make it a success for all of us.

Please feel free to continue to use our website to purchase online, and click and collect from the shop or have us post or courier to you. Happy crafting and sew on with a big smile.
Tuesday 28th April 2020
Introducing Sewing with Sandy classes making Winter Booties. This video is a complimentary class for making Winter Booties for the whole family. Purchase the kit, including the pattern, fabrics, batting, threads, elastic and buttons required from our website then play the video as your guide for making Winter Booties. 
You Tube Video Link: https://www.youtube.com/watch?v=4nKrfLz9Tew
Friday 24th April 2020
This week while Amanda has been spending many hours getting our website updated with e-commerce capability I have been spending my time preparing and making blocks for our new block-of-the-month Cottontail Bunnies. Here's a sneak peak of my progress. I'm enjoying the slow-work of this project and will show off what I'm planning on doing to make my version of this BOM unique. 
While we know we won't have everything loaded for click and purchase by next week Amanda will have most products available. If there is anything you are wanting but not yet showing there please email us on info@berninanorthland.co.nz so you are able to purchase everything you need for your projects
Keep an eye on our website and Facebook to see the exciting steps we've been taking for working with you in level 3.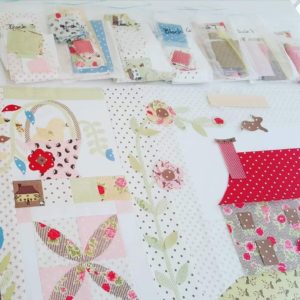 Tuesday 21st April 2020
As you are aware, the country will be coming out of Level 4 next Tuesday 28th. Although we are already able to supply goods to you, we need to let you know that even when we go to Level 3, we will still not be able to open the shop up for you to come in. We must remain as a contactless business, and can only deliver or post/courier goods to you.

To this end we are working furiously on getting our website set up for full e-commerce, but we can't stress enough how big the job is! We aim to have as many of our products listed as possible, however we likely will not be able to have everything, so we ask you to please continue to either call us or email us if you want something specific and can't find it.

Otherwise, happy shopping on our site, and we look forward to supplying you with your next project needs!
Monday, 13th April 2020
Day 19 of Covid-19 Lockdown
Happy Easter Monday everyone. 
We are having a very quiet day today (well actually, a couple of quiet days now), however that didn't stop us from making the latest video for our YouTube channel yesterday.
This video is for making Scrub Caps, in response to a plea from the Covid19 response team at Whangarei Hospital for caps that are easy to fit and wear, and can stand up to the rigours of hospital cleaning.  It's a great little project, the instructions can be found below, and the video is here.  We will be collecting finished caps to pass onto the team, so please call/message/email us when you are ready and we will arrange the pickup in a suitable fashion.
Remember that we will be able to get limited supplies to you, and will be processing orders on Tuesday, so again, call/message/email us if you need sewing or yarn goodies, and we will work out a plan to get them to you.
Have a blessed rest of the long weekend.
Tuesday, 7th April 2020
Day 13 of Covid-19 Lockdown
So, a special day today, it's Sandy & Tim's wedding anniversary!!  To celebrate we have made a brand new video, demonstrating a very cute project called the Pyramid Pouch.  It's a complete go to wo, so make sure that you have a nice cuppa before you settle in to watch!!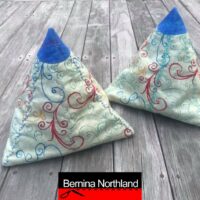 https://www.youtube.com/watch?v=HSjg6ViejgA&t=31s
In other great news, Bernina NZ has now been deemed an essential business, and can supply directly from their TradeMe account, so if you do need machine accessories etc, you can order those & they will be couriered to you.  We have had our application to resume trading via internet/phone/email lodged, and are (sort of) patiently awaiting the outcome.
In the meantime, keep the projects ticking along, and let us know how you are going with your The View Outside My Window 😊
Until next time, keep calm & sew on!!
Fabulous Friday, 3rd April 2020
Day 9 of Covid-19 Lockdown
Yes, we've been a bit quiet on the blog for a couple of days.  What that really means is that Sandy has been furiously sewing up a storm, and getting on top of a bunch of projects.  This includes the Counting Monkey Book, which is a quick and easy project.  This is just one of many different panels that we have that make up awesome books for little people.  Sandy has even managed to squeeze in some so-called personal development time (quilting of course!!) with a little challenge that she set herself.  And what a challenge it was!! Sandy had to adapt some of it because it just didn't work out, so if you're struggling with a project at present, don't be scared of adapting or altering the project instructions if you cannot make it work.  That's all part of the fun of patchworking!  And finally, Bernina Northland productions are working on the next video, so keep an eye on our YouTube channel, and we'll notify via Facebook & Instagram.
Happy sewing this weekend!!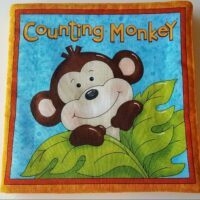 Counting Monkey Soft Book Panel
Designed by Marie Cole for Henry Glass this panel measures 36" x 44″ and features pieces and instructions to create a soft book. Additional supplies needed to complete project.
Monday, 30th March 2020
Day 5 of Covid-19 Lockdown
All is well in the land of the sewists!!  Sandy has created the first challenge, The View Outside My Window.  The instructions and terms and conditions are below. We had real fun making the video.  It even stars Tiffany as the supporting vocalist in the background!!  We're issuing a challenge to all the other Bernina dealers around New Zealand to get involved too, so hopefully we're creating a nationwide event that started in Northland!!  As always, stay safe and sew on in your designated house bubble 😊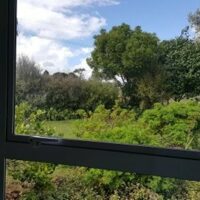 Friday, 27th March 2020
Day 2 of Covid-19 Lockdown
The sun rose again this morning!! And unlike some others we know, we are still desperate for rain to replenish our water supply tanks. Day 2, and we're just having a quiet morning as we organise the sewing zones.  It's amazing how much space you can suddenly create in your home to accommodate new projects that have to fit in with all the other projects that you already had started 😊  We'll be working on the challenge projects over the next day or two, and we plan to put the first one up on Monday. We will send an alert out via social media so keep an eye on your notifications!
Happy sewing, and enjoy your bubble.  Don't forget to get your daily sunshine, fresh air & exercise (unlike Tiff here)!!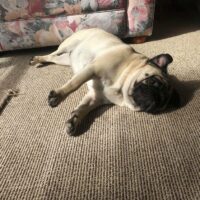 Thursday, 26th March 2020
Day 1 of Covid-19 Lockdown
Hi Everyone,
Hopefully you are all settled into lockdown successfully. We managed to keep supplying until late Wednesday afternoon, but the Bernina Northland shop is now safely locked up, and we are all at home as per instructions. Given we have no means of being able to supply you with goods for the next period of time, we thought we'd try and help you to fill the days ahead. Sandy will be producing some video challenges and projects, that we will post for y
ou periodically. Some will be practical, some will be just for fun, so keep an eye on the website, Facebook & Instagram.
We also realise that if you are sewing furiously you may have the odd hiccup with your machine, or wonder how to use a specific function or technique. Don't panic, help is only a phone call or email away! If you call the shop number 094387654, we have diverted it to our contact number and we will answer your call, or email us on info@berninanorthland.co.nz. Our technician Nick is able to provide support for your Bernina or Bernette machine via the shop number or email. Bernina NZ is also setting up a tech support channel as well, so check their Facebook page for details here
Stay safe & sew on!!