Choosing your BERNINA 3 Series sewing machine
Are you looking to venture into some sewing projects this year?
Are you wanting to express your creativity and have some sewing fun?
At BERNINA Northland we have a comprehensive range of sewing machines to suit your sewing, crafting, dressmaking, patchwork, or quilting needs.
But which sewing machine best suits your sewing style?
Is your ideal sewing machine from our bernette Range or BERNINA Range of sewing machines? At BERNINA Northland we invest our time with you, so you get the right machine to suit your sewing style.
Come and meet the team at BERNINA Northland in-store at the Vine Street end of the Strand Arcade, Whangarei for a free hands-on demonstration of the available machines or if you live further away call us on 09 4387654 to make an appointment or book a zoom session with us.
But first, read further while we delve into the options available at BERNINA Northland within our BERNINA 3 Series Range of sewing machines.
All machines in the BERNINA Range have solid metal construction and parts within them, so they are a durable and solid machine for you to enjoy using. The BERNINA Range of sewing machines at BERNINA Northland come with a 10-year mechanical warranty including a 5-year motor, electrical and electronic warranty PLUS two free annual services with our in-store technician from the purchase date.
Do you want the solid construction BERNINA is famous for?
Are you an occasional sewist with traditional sewing intentions – a little bit of dressmaking, some repairs, and alterations?
Have a look at the BERNINA B325 and BERNINA B335 sewing machines from the BERNINA 3 Series.
BERNINA B325
The BERNINA B325 sewing machine is a great entry level machine into the BERNINA Range with 97 stitch patterns plus an alphabet. The sliding speed regulator means you have complete control of the speed your machine works at. The BERNINA B325 sewing machine has an automatic buttonhole function, pattern end option and a needle threader as well as foot free sewing with the start/stop button. What a great idea!
The BERNINA B325 sewing machine also comes with a slide on sew table with clear visibility to the bobbin area. The metal bobbin and bobbin case give great thread tension, that is easily adjustable if you need to. The stitch width and length, and 9 different needle positions are easily adjusted to suit your sewing projects. Using the temporary memory function to write phrases is simply a matter of cycling through the available options, selecting the letters you desire.
Personally, I really like that the stitch number being used is displayed on the screen of the BERNINA B325 sewing machine, along with the recommended foot for the stitch. What a wonderful reminder and guide for beginning sewists!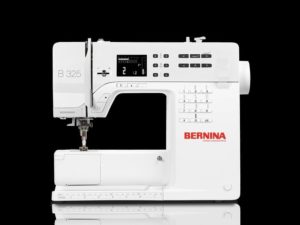 BERNINA B335
The BERNINA B335 sewing machine is also a great entry level machine but includes a few extras compared to the BERNINA B325 with 221 stitch patterns plus two alphabets.
The BERNINA B335 has all the attributes of the BERNINA B325 mentioned above.
Added to those, the BERNINA B335 sewing machine has mirror image capability so you can reverse the stitch pattern orientation and the option to add a knee lift if you would like, so you can raise and lower the presser foot with a hands-free motion.
Using the second spool holder means twin-needling is easy to accomplish and looks great on your sewing projects whether it's used for hemming or decorative embellishment.
I believe one of the best features on both the BERNINA B325 and BERNINA B335 sewing machines is that, while these are entry level machines, the screen discreetly flashes the default setting of the width and length for each stitch whenever it has been altered.
It is super easy to bring them back to the default position individually or by pressing 'clear'. This simple feature makes sewing more enjoyable and less challenging on the BERNINA B325 and BERNINA B335 sewing machines!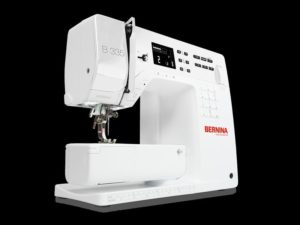 Come and see us in-store at BERNINA Northland for a free hands-on demonstration or click through to see the BERNINA B325 or BERNINA B335 in our on-line catalogue.
Would you like to see other BERNINA Sewing Machines?