BERNINA NZ 2022 Quilt Challenge
Another year, another BERNINA NZ 12″ x 12″ Quilt Challenge to get your creative juices flowing.
The theme for 2022 is 'Quilt Block'.
Do you have a favourite quilt block? Is there one block in particular that is your go to? Or do you prefer to mix it up a bit? Traditional, modern, improv, foundation pieced or English Paper Pieced blocks…there are so many options to choose from! 
Create your favourite quilt block as a 12″ x 12″ Quilt
This could be a singular 12″ block or even a mini quilt, anything goes. All entry details, including terms and conditions, are on the entry form, entries need to be delivered to Bernina Northland by the 31st March 2022. Click on the link, on the right, to download the entry form.
The 'Quilt Block Challenge'  Exhibition will travel with us on the BERNINA NZ Roadshow and other events in 2022.  Roadshow and event dates and locations are yet to be confirmed.
The winner of the challenge will be determined by a Viewer's Choice vote, the quilt maker with the most votes will win a fabulous new bernette 77 Sewing Machine. Visit us on the Roadshow or other events, place your vote and you too will be in the draw to win a bernette 77 Sewing Machine for yourself, just for voting!
Have fun and happy quilting!
Limited BERNINA Crystal Edition
For a glamourous sewing room
Now is the time to shine and give your creativity the sparkle it deserves.
Adorned with genuine Swarovski® crystals and bundled with an Inspiration Kit, these beautiful machines will let you expand your artistic boundaries.
The edition that makes your eyes sparkle
Let the shimmer of crystals inspire and enchant you! The limited B 880 PLUS, B 790 PLUS and B 590 Crystal Edition will literally put a sparkle in your eye – the unique faceplate design with Swarovski crystals and the diverse set of shimmering accessories make the Crystal Edition a true inspiration.
Long Arm Quilting
Custom
Edge 2 Edge
Basting
Tired of getting puckers and tucks on the back of your quilt when quilting at home? After you've crawled around on the floor and rubbed your fingers raw with safety pins? Let us baste your quilt for you! 
We will work with you to pick the best computerized design or a custom design to show off your quilting and quilt it with our BERNINA Q24 longarm. 
We offer a variety of quilting services. If you need something more than what you see here, just contact us and we'll be happy to talk with you about it! 
BERNINA Northland is the premium supplier of BERNINA & bernette Sewing Machines, machine servicing, sewing accessories, quality yarns, fabric and quilting supplies from our shop in Whangarei, Northland, New Zealand.

Brands available in store
Hello Saturday, what's new?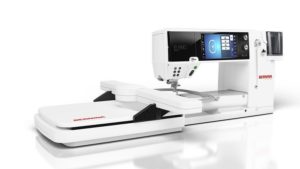 Choosing your BERNINA 880PLUS Sewing, Quilting and Embroidery Machine ...
Read More