At BERNINA Northland
We've got machines for those just starting out as well as advanced sewing machines featuring the latest in embroidery function. From newbies to seasoned sewists, BERNINA has the ideal sewing machine for you!
CONTACT US
Servicing & Repairs
If you do not know your way around the care, maintenance, and repair of domestic sewing machine you use, then we will find the answers for you. Our onsite BERNINA trained technician has a wide range of knowledge about repairing and servicing machines.
CONTACT US
Tired of getting puckers and tucks on the back of your quilt when quilting at home? After you've crawled around on the floor and rubbed your fingers raw with safety pins? Let us baste your quilt for you! 
We will work with you to pick the best computerized design or a custom design to show off your quilting and quilt it with our BERNINA Q24 longarm. 
We offer a variety of quilting services. If you need something more than what you see here, just contact us and we'll be happy to talk with you about it! 
An upcycled cotton yarn, ideal for stitching your own home accessories. Use it to knit, crochet or macramé baskets, plant pots, cushions, lampshades etc.
Composed of 80% upcycled materials, Nova Vita is an eco-conscious yarn spun with sustainability in mind. These planet-friendly skeins are available in 24 shades, from vivid brights and sweet pastels to pared-back neutrals.
BERNINA Northland is the premium supplier of BERNINA & bernette Sewing Machines, machine servicing, sewing accessories, quality yarns, fabric and quilting supplies from our shop in Whangarei, Northland, New Zealand.

Brands available in store
Hello Monday, what's new?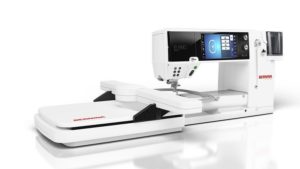 Choosing your BERNINA 880PLUS Sewing, Quilting and Embroidery Machine ...
Read More
Choosing your BERNINA 7 Series Sewing, Quilting and Embroidery Machine...
Read More