Can you knit a little? Maybe just the 'knit stitch'? Or are you an intermediate knitter and you want a project that will extend your skills without being burden?
Here is the project for you. It is a block a week, each block introduces new stitches. There are plain, pattern and lace blocks. The finished blanket measures 120cm square.
We have four kit options available to include acrylic, wool/mohair mix or wool as your yarn then you choose your tri-colour combination and finishing style to personalise this project.
Wednesday mornings 10am to 11am beginning 5th June so we will have finished for the end of August.
Price depends on your yarn choice but ranges from $15 to $30 per session
including yarn
Book your place now.

Minimum numbers required to proceed is 6,Maximum number 10
Learn Your Bernina Sewing  Machine Class
This quilt is exclusive to Bernina Northland specifically to teach techniques and skills on our Bernina Machines including such things as basic piecing, basic and advanced applique, LOTS of feet skills and techniques including braiding, piping, couching and many more, using the walking foot, and free motion quilting using the BSR (Bernina Stitch Regulator), quilt as you go (QAUG), binding and finishing the project while offering many chances to personalise it with options across the Bernina Range of machines from 3 series to 8 series.
By the time you finish this project you will be very confident on your machine.
This project will be spread over 14 sessions, $40 per session, and includes the patterns required. Fabrics and tool requirements are additional. You will receive a 10% discount on the fabric requirements for this project when purchasing the full number through us.
Minimum numbers required to proceed is 6, Maximum number 10
 A new group will begin on Saturday afternoons from June 15th, 1:30pm to 3:30pm

Machine Embroidered Lap / Baby Quilt BOM (block of the month)
Learn to use your machine embroidery unit while completing this gorgeous lap size quilt. It is easier than you think and a great step into learning about
machine embroidery.
 OPEN NOW 
Choose your colourway or follow ours. Threads, batting and fabrics included.
(backing and not included)
Optional 1-1 session available with Sandy (additional)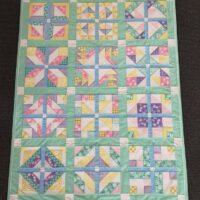 There are two colourway options for this BOM Greys/Creams.
The BOM cost is $49 p/m over 9 months. This includes the fabrics and threads required for the quilt top as we have made it, however you can add additional sashing or borders.
We are also offering optional 1 on 1 lessons with Sandy to learn the embroidery techniques required, $60 per session.
Sign up to this Block of the Month programme now to extend your embroidery repertoire