Machine Embroidered Lap / Baby Quilt BOM (block of the month)
Learn to use your machine embroidery unit while completing this gorgeous lap size quilt. It is easier than you think and a great step into learning about
machine embroidery.
 OPEN NOW 
Choose your colourway or follow ours. Threads, batting and fabrics included.
(backing and not included)
Optional 1-1 session available with Sandy (additional)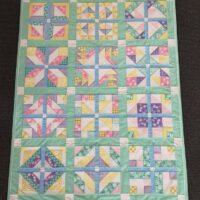 Embroidery Celestial BOM
There are two colourway options for this BOM Greys/Creams.
The BOM cost is $49 p/m over 9 months. This includes the fabrics and threads required for the quilt top as we have made it, however you can add additional sashing or borders.
We are also offering optional 1 on 1 lessons with Sandy to learn the embroidery techniques required, $60 per session.
Sign up to this Block of the Month programme now to extend your embroidery repertoire