Can you knit a little? Maybe just the 'knit stitch'? Or are you an intermediate knitter and you want a project that will extend your skills without being burden?
Here is the project for you. It is a block a week, each block introduces new stitches. There are plain, pattern and lace blocks. The finished blanket measures 120cm square.
We have four kit options available to include acrylic, wool/mohair mix or wool as your yarn then you choose your tri-colour combination and finishing style to personalise this project.
Friday afternoons starting 6th September – 1:30pm to 2:30pm. We will have finished for the end of November.
 Price depends on your yarn choice but ranges fom $15 to $30 per session
including yarn
Book your place now.
Minimum numbers required to proceed is 6,Maximum number 10
Toolbox Software and Embroidery Class
Learn to use your Bernina or Bernette Embroidery Machine with Toolbox Software to further your capabilities. Edit, Manipulate, Download and enjoy the embroidery revolution.

Beginning Tuesday September 3rd, 9:30 – 11:30 each day, with a total of 10 weekly sessions. Cost is $30 per session plus software and kits in some sessions

We will begin with getting to know the Toolbox Software on your computer, before stitching out some wonderful designs – an embroidered tea towel, a face cloth and towel set, a lace work bookmark and in-the-hoop applique are some of the projects we will complete
This series will take you from the beginning to having confidence to make stunning embroidered items.

Exclusive to this class we are offering the complete Toolbox Software at a special price of $499. That's ½ price!
NOTE: You must have a Windows PC to be able to take part in this class. (NOT MAC)
Minimum numbers required to proceed is 6, Maximum number 6
Sew Along with Sandy – Ladies Jacket
Sew Along with Sandy to make a summer jacket for yourself with ¾ or full length sleeves. This is suitable for intermediate sewist levels. Sizes from XS to 4XL. Options available for using your overlocker and sewing machine for finishing details or sewing machine only. I will demonstrate fully lined options

Saturday 23rd November and Sunday 24th November; 9:30am-4:30pm. Cost $60 plus requirements

Secure your place for this class with a $40.00 deposit. The deposit will be refunded only if minimum class numbers are not forthcoming.
Minimum numbers required to proceed is 6, Maximum number 10
Machine Embroidered Lap / Baby Quilt BOM (block of the month)
Learn to use your machine embroidery unit while completing this gorgeous lap size quilt. It is easier than you think and a great step into learning about
machine embroidery.
 OPEN NOW 
Choose your colourway or follow ours. Threads, batting and fabrics included.
(backing and not included)
Optional 1-1 session available with Sandy (additional)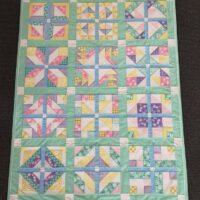 Embroidery Celestial BOM
There are two colourway options for this BOM Greys/Creams.
The BOM cost is $49 p/m over 9 months. This includes the fabrics and threads required for the quilt top as we have made it, however you can add additional sashing or borders.
We are also offering optional 1 on 1 lessons with Sandy to learn the embroidery techniques required, $60 per session.
Sign up to this Block of the Month programme now to extend your embroidery repertoire