Sewing, Knitting and Crochet
Expand your sewing, crocheting and knitting today! Our workshops cater for all skillsets. From beginner-friendly through to eye-opening for even the most seasoned crafters. We welcome students at any level looking for a fun and creative experience to join our specific and tailored sewing classes here in Whangarei.
Here at Bernina Northland we seek to ensure classes are fun, engaging and you go away with heaps of knowledge ready for your next craft project.
Sewing is a practical must-have skill that's useful for anyone looking to complete creative projects in Whangarei.
Learn to utilise your sewing machine to its fullest potential. And no, its doesn't need to be a BERNINA or Bernetta sewing machine to attend our sewing classes.
Could our Whangarei classes help you realise your inner fashion potential? Perhaps you want to undertake a dress making class or a simple cute tote bag.
With our clearly indicated classes, suitable for all ranges – chose the one that is right for you? Join us here at Bernina Northland for Whangarei based, in person sewing classes!
Get started with crocheting in Whangarei. We offer beginner or refresher classes for crafties looking to have a fun time making something handmade.
Learn crochet basics stitches: form a chain, do singles and doubles, handle tension, neatly work in rows and rounds. You'll also discover the wonders of crochet yarns – know the different types, sort by weight class, ply factor and fiber content.
Create and shape your crochet project – work on your first craft project at our Whangarei crochet workshop.
Relax and learn how to knit with our Whangarei knitting classes!
Knit with confidence and create your best craftwork yet. Learn to cast on and cast off at your own pace through our expert instruction. Better yet, we provide a cozy and welcoming space for knitters of all ages at Bernina Northland.
Knit and purl simple colourful projects or have fun creating complex knit patterns. With a range of knitting classes available you'll always find one that piques your interest.
(Click the ■ in calendar to get the class info)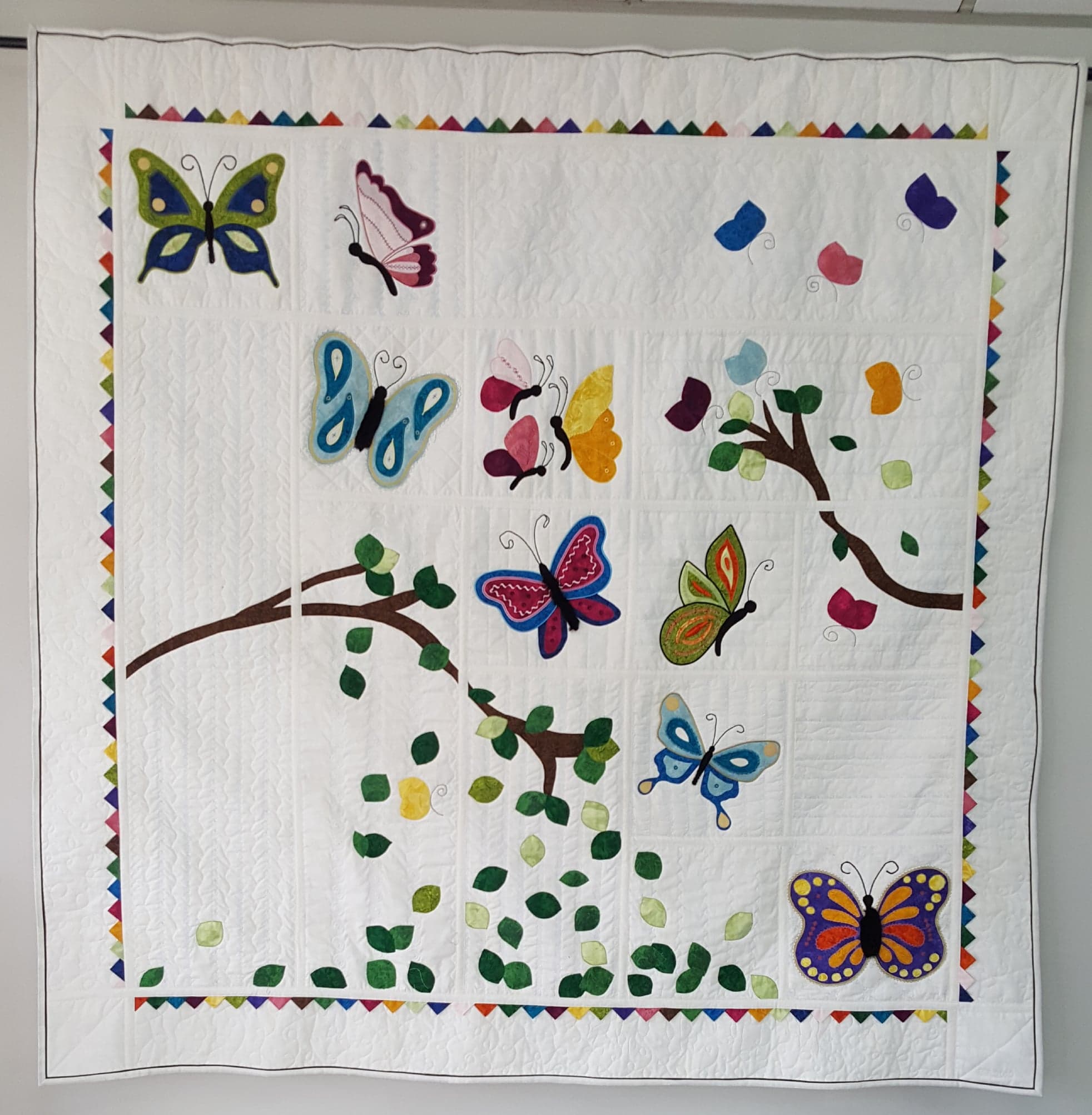 Flutter by Butterfly 2021- March
Amanda and Sandy have designed this amazing quilt that is exclusive to BERNINA Northland specifically to teach techniques and skills on our BERNINA Machines with options across the BERNINA Range from 3 series to 8 series.
By the time you finish this project you will be very confident using your machine.
Flutter by Butterfly will be spread over 14 approximately fortnightly sessions beginning Wednesday 30th March, 5pm to 7pm, or beginning Friday 7th May, 1pm to 3pm.
$40 per session and includes all the patterns required. Fabrics and tool requirements are additional. See staff for further details.
This is a quilt designed to introduce you to using your BERNINA sewing machine to its full capacity. It is constructed as individual blocks then assembled using a QAYG method.
PRE-REGISTRATION
Join Sandy to play with your machine's stitches and experiment with different techniques and skills while making this table or bed runner or wall hanging. Spaced over 4 sessions with time between to keep stitching and embellishing. Choose your colourway and contrasts, add embellishments and have lots of fun!
Classes to held on Saturdays 8th and 29th May, 19th June and 10th July
10am – 4pm each session
$40 per session and includes all the patterns required and a starter pack of embellishments. Fabrics, machine feet & tools required are additional.
A $80 deposit secures your place in this class
Note: only a small portion is shown in the photo
PRE-REGISTRATION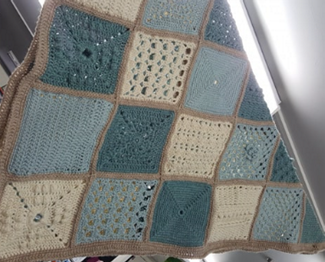 Alpaca Crochet Blanket with Sandy
Join Sandy to crochet this blanket, including a variety of stitches, joining blocks and edging the blanket.
Spaced over 14 sessions to allow time to complete the blocks this blanket is warm and light due to the Alpaca Yarn.
Weekly classes beginning Monday 10th May.
Each session will be held 1pm-3pm.
Cost $30 per session and includes yarn and patterns
A deposit of $60 is required to secure your place in the class.
Hooks, if required, are additional.
PRE-REGISTRATION
Join Sandy to make a mystery table runner or center mat each month over 6 months – May to October. Only the first table runner is shown here. Some projects will be long, while others are square or round. Each month I will introduce you to a new technique for creating unique table runners and mats
This class will be held on the second or third Tuesday of each month beginning 11th May until 19th October
Each session will be held 1pm-3pm.
Cost $30 per month + class kit ($TBC)
A $30 deposit secures your place in this class
Note: photo shows only a small portion of 3 projects.
PRE-REGISTRATION
Join Sandy and learn to free motion quilt, especially using your BSR (BERNINA Stitch Regulator) for quilting. There is some simple prework to complete before attending as this class is not about making the blocks – it's about the quilting. You will complete the project as a sampler including the binding to finish it.
Classes held on Wednesdays 12th and 19th May
Each session at 5pm-7pm
Cost $30per session + class requirements
A $30 deposit secures your place in this class
PRE-REGISTRATION
Join Sandy to make this lovely jelly roll quilt as a lap or single size quilt. Choose your fabrics and colourway to make your version of Strip Stacks then come along for some fun stitching. We will also discuss quilting options for your project.
Classes held on Saturday 26th and Sunday 27th June
Time for each session are 10am – 4pm
Cost $40 per session + class requirements
A $50 deposit secures your place in this class
PRE-REGISTRATION