Want to learn a new craft? How about quilting? Or take it a step further with patchwork quilting.
Quilting to some can feel like a massive undertaking. But on the contrary, there are simple quilt projects that you can do in just a few hours or over the weekend. For anyone crafty, it's definitely enjoyable, fun, and relaxing to do.
The art of quilting is part of many family legacies. Many create heirloom crafts such as baby blankets and bed quilts passed down generation after generation. That said, quilting has a long history of being a humble and creative leisure pursuit.
The Art of Making your Very Own Quilt
Quilting is a craft that welcomes anyone at any experience level. If you know how to cut with scissors and sew with a needle, then you're off to a good start. Now if you have a handy rotary cutter and a robust sewing machine, well then you're bringing an ancient craft into the modern world
Quilts and many of the popular patchwork quilt styles are quite easy to construct. Whether you're planning to make a simple single block quilt or a blanket with a geometric design, you'll realise how dynamic and engaging quilting is once you get the hang of it.
The fun part, you simply won't want to stop sewing pieces together, we warn you now, it can get pretty addictive!
What is Patchwork Quilting? 
Now when we say patchwork quilting, this is in reference to the process of building the top layer of the quilt. Here you get to form a pattern and a cohesive design by sewing your choice of fabric pieces together or using applique to build a picture.
In earlier generations patchwork was a way to reuse fabric scraps, often leftovers from other sewing projects or old clothing. In modern times one type of patchworking is to create memory quilts incorporating old linens and doilies from the family. This becomes an heirloom piece for future generations
Get to Know Some Quilting Basics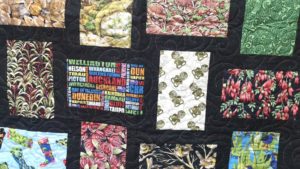 Notably, there are many who take their patchwork quilting very seriously and prefer to use specific stories of fabric to achieve their choice of colour and design. Fabrics are purchased in specific amounts to suit a project. The results are lovely and are made to suit their home's decor.
Now before you begin, it's important to understand the basic steps in making your very own patchwork quilt. But do note that these are just basic steps, there are many ways to go about quilting and some crafters have very specific techniques.
Don't forget we have classes here at BERNINA NORTHLAND and can help you learn your machine and patchwork quilting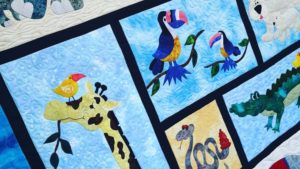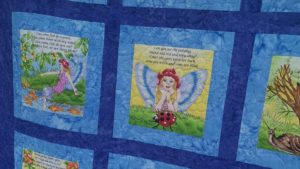 So first off – as you start your foray into Patchwork Quilting:
Find a patchwork quilt pattern that you like
As a beginner, start simple and go for the easiest quilt pattern you can find. Commonly, a panel or precut large squares are easy fabric choices that will harmonise into a lovely quilt. This way you become familiar with the process of stitching blocks and (fabric) rows. You'll understand which fabrics and textures work well together, which ones stretch at the seam allowance, and which ones conform precisely when sewn.
For the seasoned and experienced quilter, there are complex geometric patterns and patchwork arrangements you can try out that can give you the sewing challenge you seek.
Cut and pre-stack the fabric
Rather than using scissors patchwork quilting pieces are cut using rotary cutter. with rulers with specific measurements marked on them.
A rotary cutting tool offers precision and speed to cut individual pieces of fabric. It also lends versatility to create complex shapes. But really, as a crafter, this saves you time.
Get your seam allowance right
 The secret to good-looking quilts is having a consistent seam allowance. Get familiar with the standard 1/4″ seam allowance that is commonly used to make quilts, it will make your sewing life easier and quilting far more enjoyable.
Press as you go
Press each seam immediately after sewing so seams nestle together in each subsequent stage.
Yay, Assembly!
Get ready to get your sewing machine roaring! Stitch all of your prepared and pre-cut pieces together based on the pattern you intend to form.
Now the quilting
This stitching holds the layers of the quilt together, that is the backing, the batting and the quilt top. Quilting adds a further design feature to your project and comes in many forms:
Straight line quilting. A series of straight lines or rows often stitched within the seam stitching.
 Free-motion quilting. Fun and multi directional stitching that draws on top of the quilt top
Echo Quilting. Where you make concentric lines of stitching using the pieced shapes as guides
Finally, binding
 The final step that wraps a double layer of fabric around the raw edges of the quilt and frames the project.
Explore more quilting possibilities
Here at BERNINA Northland we can complete your patchwork quilting project. With a long-arm quilting machine we can stitch a design to compliment your patchwork with a regulated stitch size, – lines, florals, feathers or geometric patterns, we've got them all. We can ensure the completed finish matches the love and attention you have put into your quilting at every stage.
Remember, as with any craft you decide to take on, patience pays off in the long run. Things get easier the more you try it out. 
If quilting piques your interest, you can find quilting fabrics, tools, classes and the best sewing machines to get your patchwork quilting project started. For all supplies and sewing classes, quickly head over to Bernina Northland today.