Classes
Sewing, Knitting and Crochet
Socks – the Next Step
Join Nicola for the next step in knitting socks. This is the class for you if you have already completed the 'learn to knit socks' class or you are already confident with knitting basic socks and want to go further with sock knitting. These are 'stand-alone' sessions or you may want to attend them all. 
Wednesday 16th September– Using left over sock yarn. Bring some 4ply leftovers in different colours. This becomes an 8ply sock. In this session you will be looking at the heel flap, soles of socks and weaving in ends as you knit. You will need a range of needles 3.25 to 4.0 needles. This is your opportunity to use your interchangeable needles
Wednesday 14th October – Mosaic socks using 4ply yarns. You will need 50g of 2 different colours
Wednesday 11th November – The maths behind converting / modifying cuff down patterns to toe up stitching allowing you to use a variety of 'sock packs'
Wednesday 9th December – This may give you an additional session to catch up with what you are finding challenging with Nicola's guidance as well as grafting in socks and perhaps you will create some 'Christmas Socks' for someone special
Cost: $40 per session.
Pre-payment is required to secure your place in the class.
Minimum numbers required to proceed is 6, Maximum number 10
Flutter by Butterfly 2021
Amanda and Sandy have designed this amazing quilt that is exclusive to Bernina Northland specifically to teach techniques and skills on our Bernina Machines with options across the Bernina Range from 3 series to 8 series.
By the time you finish this project you will be very confident using your machine.
Flutter by Butterfly will be spread over 14 approximately fortnightly sessions. $40 per session, and includes all the patterns required. Fabrics and tool requirements are additional.
This is a quilt designed to introduce you to using your Bernina sewing machine to its full capacity. It is constructed as individual blocks then assembled using a QAYG method.
PRE-REGISTRATION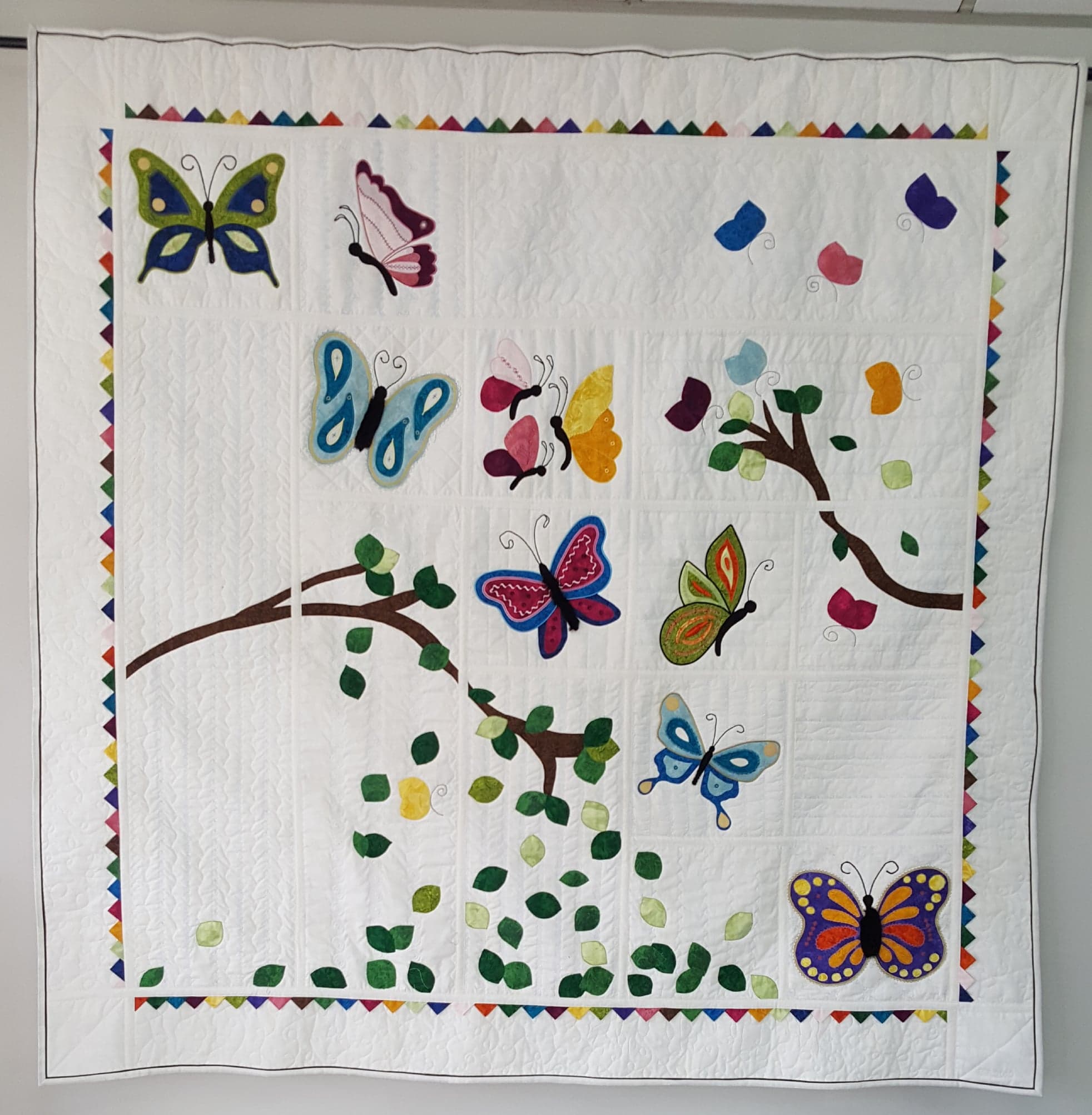 Pattern Drafting
We have all been patiently, and impatiently, waiting for the new dates for our pattern drafting class. These will now be held Saturday 21st and Sunday 22nd November 2020