Day 9 of Covid-19 Lockdown
Yes, we've been a bit quiet on the blog for a couple of days.  What that really means is that Sandy has been furiously sewing up a storm, and getting on top of a bunch of projects.  This includes the Counting Monkey Book, which is a quick and easy project.  This is just one of many different panels that we have that make up awesome books for little people.  Sandy has even managed to squeeze in some so-called personal development time (quilting of course!!) with a little challenge that she set herself.  And what a challenge it was!! Sandy had to adapt some of it because it just didn't work out, so if you're struggling with a project at present, don't be scared of adapting or altering the project instructions if you cannot make it work.  That's all part of the fun of patchworking!  And finally, BERNINA Northland productions are working on the next video, so keep an eye on our YouTube channel, and we'll notify via Facebook & Instagram.
Happy sewing this weekend!!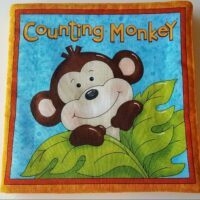 Counting Monkey Soft Book Panel
Designed by Marie Cole for Henry Glass this panel measures 36" x 44″ and features pieces and instructions to create a soft book. Additional supplies needed to complete project.